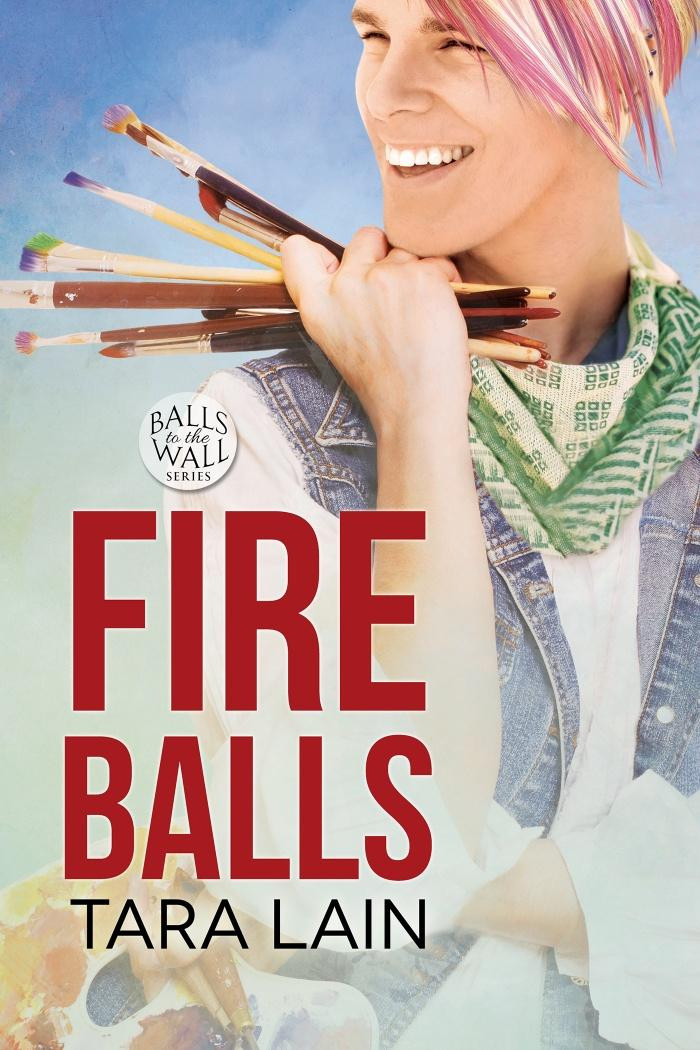 TITLE: Fire Balls
AUTHOR: Tara Lain
SERIES: Balls to the Wall
PUBLISHER: Dreamspinner Press
COVER ARTIST: Reese Dante
GENRE: Contemporary Romance
E-BOOK: Yes
PAPERBACK: No
LENGTH: 107 pages
RELEASE DATE: February 8, 2017
PRICE: $ 4.99 -e-book

BLURB:
Rodney Mansfield is tiny, flamboyant and, oh yeah, a black belt in karate. He is also one of southern California's greatest artists. Too bad the work of art he really wants is firefighter, Hunter Fallon. But the gorgeous "straight gay" guy could never want the Runtback of Notre Dame, so when Rodney's handsome, surfer friend, Jerry, develops an unexpected passion for the beautiful firefighter, Rodney breaks his own heart by helping Jerry land his man. And then Rod makes it worse by embarrassing Hunter when he protects him from a firehouse bully. Hunter hates gay guys like Rodney – doesn't he? Then why can't he get the powerful pipsqueak's face out of his mind… and cock out of his ass? And why does he risk his job and his life to rescue Rod from a burning building? Isn't it time for him to admit he's not an alpha male after all and that he is the property of the artist?
---
Fire Balls by Tara Lain is a cute story about a painter named Rodney and a firefighter named Hunter. Rodney's short, flamboyant, self-depreciative, and sarcastic. He's a black belt in karate, and he loves to help his friends. Although Rodney says that he loves who he is and has made peace with not being able to hide that he is gay, he's always putting himself down and doesn't believe he's good enough for what he wants. And what he wants is the gorgeous firefighter Hunter.
Hunter's one of those guys that can pull off looking and acting straight but is gay. Hunter's spent his life trying to make it up to his dad for being gay. He does this by being what his dad wanted to be in life, a firefighter. What Hunter wants to do is be a college level lit teacher which he has a master's degree in. Hunter sees Rodney's paintings at the art festival and falls in love with them. But Rodney isn't manning his booth, it's his best friend Jerry that is, and Jerry wants Hunter and needs Rodney's help to get him.
And even though Rodney wants Hunter also, he knows that Hunter wouldn't want somebody that was so obviously gay and flamboyant looking. And so he helps his best friend land him as a boyfriend even though it breaks his heart. All of this changes when Hunter gets talked into being a model for Rodney by his boyfriend, Jerry. And things are going to get hot and confusing as Hunter learns something about his body and the talented artist.
I loved watching Hunter figure out what he wanted in life and going after it instead of trying to make his dad happy. I loved that Rodney finally gets what he wants and stops putting himself down.
Overall a cute story with some angst, hot chemistry, some hot scenes, a great story-line, and well-developed characters. The book is well written and nicely edited. There's also a scene of cheating in this book which wasn't a problem for me, but I know some people don't like it.
**** The ARC was provided by Dreamspinner Press. My review is an honest opinion of the book ****