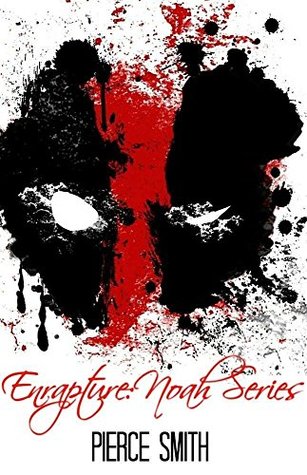 TITLE: Enrapture
AUTHOR: Pierce Smith
SERIES: Noah
PUBLISHER: Self
COVER ARTIST: Kimberly Cortez
GENRE: Paranormal; Erotica
E-BOOK: Yes
PAPERBACK: No
LENGTH: 94 pages
RELEASE DATE: May 15, 2016
PRICE: $2.99 -e-book

BLURB:
On their first Halloween eve together, things didn't quite go as planned for two very passionate and horny men. Noah waits anxiously and impatiently for Ethan to get home from work to start their night of sexy fun. Noah discovers a man is watching him through the window across the street. When Ethan phones to let him know he's caught in traffic, the fun starts with phone sex. Shortly after, a masked Ethan arrives for the Halloween night of fun. But a knock at the door later has left Noah wondering who he just made love to.
They find themselves dealing with more than they bargained for in this debut book of an erotic M/M series. It's a one-night tale with twists and turns, and lust wrapped in suspicion. A hot read that will have you begging for more!
---
Enrapture is the perfect title for this book. This author had me enraptured from the get go. First, you meet Noah, who's waiting for his lover to come home and spend a sexy Halloween with. Ethan, his hot lover, is running late and is stuck in traffic. You wonder how this can be hot and sexy. Well, these two lovers have a way with words on the phone.
Noah is in their window watching a stranger watch him, and Ethan has a hot driver next to him in traffic. The things these two do while on the phone with each other is so hot, you feel the sexiness rip through you. These characters are so believable with their need for each other and the longer they are apart, the hotter it gets. It made me want to have some really hot phone sex, and I'm a bit old for that. LOL
The author made me want to be the stranger watching Noah in the window. I wanted to be the one touching myself while I watched this intriguing man pleasure himself. As this stranger keeps moving around the store, Noah keeps finding him watching. Ethan is hearing all the details and learns that the driver next to him, is also touching himself.
Now, this seems all innocent and fun but remember, it is Halloween. When Noah gets the knock at the door, he excitedly answers the door to his lover. What proceeds is extremely hot, and you should have water next to you for your dry mouth. The author gives great detail of the hotness and connection between these two lovers. Then, there comes a knock on the door.
This is a sexy and hot read. So, if you like voyeurism, phone sex and touching yourself, then I highly recommend this book.
***I would like to thank the author for the privilege and opportunity of reading this ARC. My review is an honest opinion of the book***