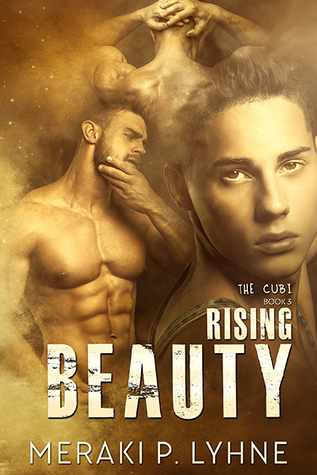 TITLE: Rising Beauty
AUTHOR: Meraki P. Lyhne
SERIES: The Cubi Series
PUBLISHER: Self
COVER ARTIST: Jay Aheer
GENRE: Paranormal; Incubus ;MMM; Erotica
E-BOOK: Yes
PAPERBACK: No
LENGTH:  pages
RELEASE DATE: , 2017
PRICE: $ -e-book

BLURB:
Since the Mayflower brought the first five Cubi to America, the race has looked forward to this day. But an overlooked historical detail can bring everything they have worked toward to an end.
Daniel is settling in and trying to find a rhythm after the latest change in his life. With the help of Seldon, Caledon, and the Grand Lady Geodin, Daniel begins his education and development to rise as a full-fledged Incubus.
Seldon is not a man who rattles easily, but the latest changes to his life after the Cubi Court Order has sent the old Incubus out in uncharted territory. Falling madly in love with a human raised boy does not help uncomplicate things—especially when that boy is not yet versed enough in the Cubi ways to not mistake feeding for love or love for feeding.
---
Are you ready to continue Daniel's journey in the world of Cubi?
So now, after Seldon got his punishment and Daniel's true nature it's revealed, things are getting a little to official for Daniel's liking.
His education as Incubi continues with the help of both Caledon and Seldon. But his human side, how he sees the world around him, is still there.
This series being an erotic read, there is not so much to say without spoiling the story for you dear reader, but I will try my best.
The dosing of both Daniel and Seldon is provided by Caledon (mainly). These three are getting closer and closer, but Daniel still can't see the difference between lovemaking and feeding without being dosed. For him having sex without a dose it's considered lovemaking. That leads to a very interesting situation between the three.
We will find out in this sequel that every monarch is to bring new powers to his/her people. The same is happening with Daniel too. He empowers his Cubi, both Incubi and Succubi with his power. What is his power? Aren't you a curious little thing…? Read the book luv. How the actual empowering takes place, I leave it to your dirty/not so dirty imagination…
Remember from the first book, the slave who almost killed a red-eye? Him having a protein what's dangerous to Incubi and Succubi? Well, we will learn about that too, and the development of that situation brings us to the next chapter of the Cubi world.
The book, as we're used too by now, gave us a hot read! I'm anxiously waiting for the next book to see how things will go for Daniel, Seldon and Caledon.
P.S.
Well, the next sequel will have a new character called Levidon. You may think it's coincidence, but it's not. So let me have my moment of fame to announce you that I will be, as Levidon, in Meraki's next book *winkwink #hashtagtime #braggingmuch #mebeingamuse
***I would like to thank the author for the privilege and opportunity of reading this ARC. My review is an honest opinion of the book.***