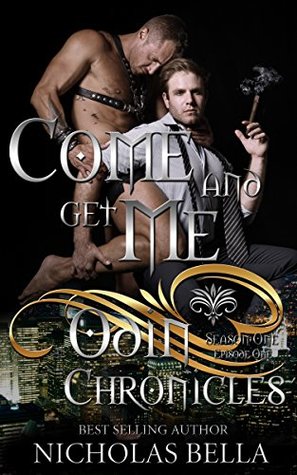 TITLE: Come and Get Me
AUTHOR: Nicholas Bella
SERIES: Odin Chronicles
PUBLISHER: Self
COVER ARTIST: Nicholas Bella
GENRE: Dark, Erotica, Paranormal
E-BOOK: Yes
PAPERBACK: Yes
LENGTH: 151 pages
RELEASE DATE: February 24, 2017
PRICE: $3.99 – e-book / $8.99 – paperback

BLURB:
Noel: I'm finally free and able to patrol my own territory without Marco being by my side. I really appreciated everything he's taught me, what can I say… that big, brutal bastard grew on me. However, before I can embark on my new life as a General, I have to fulfill a debt my Father owes to the dragon king, Evander. This should be interesting. At least I'm not going alone. Dante, newly-mated to Josef, will be going with me.
Elijah: Today is the day our plan finally comes to fruition. I'm praying that everything falls into place just as we have designed it to. But you never know with these sort of operations. Humans can be as unpredictable as supes. I do know one thing, Deacon better come and get me.
Vex: As a reward for my loyalty and service, my King has given me permission to pick the human I want to have turned into a werewolf. I've had my eye on the perfect guy, too. Whether he wants to be a wolf or not doesn't matter to me. Once it's done and he's mine, he'll learn to heel and obey.
Kendrick: It's been a long time coming with years of strategic planning, from the night I killed my Alpha to the day I killed the dragon king, making me a ruler in my own league. I've had my eye on the Odin Colony for over a decade, but I knew I needed to wait until the right moment came to strike. They should fear me, because when the dust settles and the streets are flowing with blood, I will be standing victorious.
Warning: This series is highly addictive, and fans have complained that it's all they can think about, oftentimes re-reading each book until their next fix. Be further warned: This serial contains strong adult content not meant for sensitive eyes as each episode will be filled with dark, twisted, raunchy and steamy scenes between powerful, sexy men that will either offend you or get ya revved up. This series will not be pulling any punches, and it won't apologize for hurting your feelings, either. You'll find no fluff and ruffles here. The vampires are not misunderstood, hopeless romantics looking for love. The werewolves are not cute and cuddly and the dragons aren't the ones from your childhood. This is NOT a romance
---
As usual, this author has sucked me into his dark, erotic and unapologetic paranormal world. If you have not read Nicholas before, I strongly suggest you start with The New Haven Series. This is where it all began. This is a new season of the series, and you will want to understand everything up until now. This author has created a world of vampires, werewolves and dragons and it's not a world for the weak. There's a no holds barred with this author and if you're offended easily, by all means, look elsewhere. But, if you like dark, taboo, M/M sexual paranormal and forceful situations, then grab hold of the seat of your pants and enjoy the journey.
Theoden's boys are taking to their new roles beautifully and are just as sexy as ever. Noel and Dante have a hot date with the Dragon King, Evander, and holy hell. This ménage is super-hot and sexy and had me panting. This happens before the mating of Josef and Dante is to happen. Deacon and Elijah are getting ready for the day they've been planning to take over the wolf territories. Elijah is hoping everything goes as planned with Dominic's human gang and that his mate, Deacon, shows up for him. I really missed all my boys and was happy to get caught up with them. But, there are new and exciting new characters to meet.
Meet Vex, a dragon, which is one of King Evander's right-hand men. He has been a very loyal dragon and has been given the gift of a human. He has his choice of any human to turn into a werewolf and to be his little puppy. Vex has the perfect man, Isaiah, and brings him home to begin the change. You see, dragon venom will kill a human but not a werewolf, so Vex will have his way with his new pet and will enjoy every last minute of it. He will train him to please Vex whether he wants to or not.
Then there's Kendrick who has already killed his alpha. Now, he's waiting for the perfect moment to kill King Evander. Once he does this, he believes he will rule all the worlds of the paranormal. Kendrick can cause some real problems, BUT I do not believe he's as prepared as he thinks. He has no clue to the strength of Theoden's boys or the rest of the pack's alphas. He also has his right-hand man, Monroe. I love Monroe, and I hope he you do too. He's flamboyant and adorable.
Of course, Nicholas has left me wanting the next episode, and like a good little reader, I will wait as patiently as I can. He loves to make us readers suffer just like his characters. I warn you now, you may want to alone with yourself to read this book. ENJOY
***I would like to thank the author for the privilege and opportunity of reading this ARC.  My review is an honest opinion of the book***