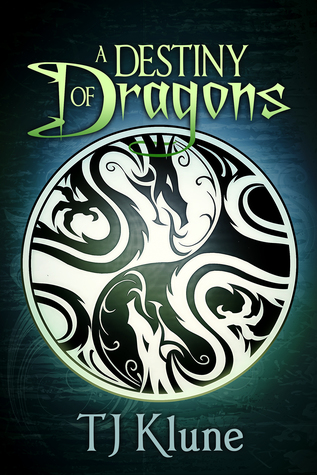 TITLE: A Destiny of Dragons
AUTHOR: TJ Klune
SERIES: Tales From Verania
PUBLISHER: Dreamspinner Press
COVER ARTIST: Paul Richmond
GENRE: Fantasy; Humor
E-BOOK: Yes
PAPERBACK: Yes
LENGTH:  400 pages
RELEASE DATE: Jun 30, 2017
PRICE: $6.99 -e-book / $17.99 -paperback

BLURB:
Once upon a time, the wizard's apprentice Sam of Wilds got his happily ever after in the arms of his cornerstone, Knight Commander Ryan Foxheart. A year has passed, and while Sam's been captured five or six more times since then, things are pretty great. His parents are happy, Gary and Tiggy still eat sass for breakfast, Randall is somehow alive despite being older than the gods, the King rules with a gentle hand, Kevin the dragon is as gross as ever, Morgan sighs a lot, Ryan continues to be dashing and immaculate, and Sam is close to convincing Prince Justin they will be best friends forever.
Life is good.
Until it's not.
Because Vadoma, the leader of the Gypsy clan and Sam's grandmother, has come to the City of Lockes with a dire prophecy written in the stars: a man of shadows is rising and will consume the world unless Sam faces his destiny and gathers the five dragons of Verania at his side.
And she brings along her second-in-command, a man named Ruv.
Ruv, who Vadoma says is Sam's true cornerstone.
The first book in the DESTINY FUCK YEAH! Trilogy (because sometimes, having a destiny is the stupidest thing ever).
---
And the story continues …
As we know by now when we read a Klune book that tears are inevitable. Well, in this case, tears are caused by laughter.
Sam of Wilds and Knight Commander Ryan Foxheart aka Knight Delicious Face finally got their happy ending…or that's what they think.
Sam's grandmother, Vadoma, comes to visit, and by that, I mean she appears in front of Sam, ending in Sam losing his consciousness. Sam has a vision. Don't ask me, you know I will not tell…duh! Vadoma is a gypsy, trying to convince Sam to come back to his tribe. Oh and by the way, Vadoma brought Sam's real cornerstone with her, a very attractive, and bendy, young man called Ruv. You think Ryan will be jealous? Pleaseee…khmmm, why would he? He has bigger arms, he has a bigger sword, he has a bigger d…, I mean personality, and he is more bendy than that…that…urgh! Right…Not jealous at all!
But that's not all, Sam has a destiny. What? You didn't know? Nor did he.
Sam finds out that almost everybody knew except him and his family. He feels betrayed by Morgan of Shadow, but one of his visions shows him that they are right, he has a destiny. Damn it! Sam must gather all the dragons of Varnia and make them his.
So they go to find their first dragon, that it's never an easy task you know, finding a dragon who wasn't seen in a long time.
Without giving away too much, there will be jealous Ryan, pissed of Garry, protective Tiggy who may or may not like butt sex (he hasn't decided yet), a horny Dragon who already belongs to Sam and another dragon…man, I didn't see this coming…! We'll meet new characters, including star constellations, don't ask, a villain who is out to destroy the word, and we'll witness a kinda wizard riff-off with some threats.
Oh, and one more thing… Sam's magic recognizes Ruv's as his cornerstone!
What…? No, I can't stay, I need to run…what? What do I mean by "Sam's magic recognizes Ruv's as his cornerstone"? … Oh sorry, I have no time for your tantrum now….bye!
****The ARC was provided by Dreamspinner Press. My review is an honest opinion of the book****