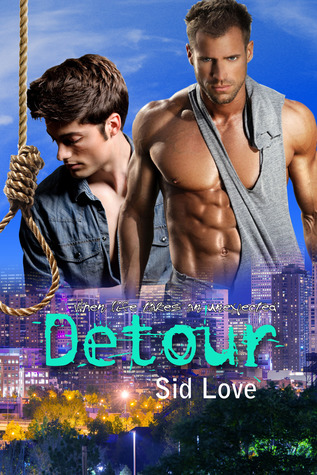 TITLE: Detour
AUTHOR: Sid Love
SERIES: –
PUBLISHER: Cool Dude Publishing
COVER ARTIST: Corneles Bronkhorst
GENRE: Contempory Romance, Thriller
E-BOOK: Yes
PAPERBACK: Yes
LENGTH: 333 pages
RELEASE DATE: June 13, 2017
PRICE: $6.99 -e-book / $12.99 -paperback

BLURB:
Austin Reyes works as a bartender to support his ailing mother in a small town called Eaton. But his life takes a horrible turn when his boss' son, Caleb, arrives in town and forces himself upon Austin. There is no end to Caleb's lustful intentions. Austin leaves Eaton and flees to Denver to start a new life when his mother commits suicide after succumbing to depression. There, he meets Dylan Carver.
Dylan is out and proud. He's also a well-known actor in the porn industry. When haters damage his car, Austin, now homeless and destitute, is injured and Dylan helps him. In the immediate aftermath, Dylan develops more than a passing interest for Austin, and, though they part ways, chance meetings never stop.
Austin lets Dylan in on the secret about his past, but soon realizes that the man who looked so happy on the outside, has his own baggage. Unbeknownst to them, someone is plotting to get Austin killed.
Even while surrounded by danger, Austin and Dylan's relationship takes a detour that was always meant to be. Will this detour be Dylan's undoing? Will Austin finally come to terms with his mother's suicide and follow his own truth? Or will their lives implode?
Trigger Warning: Content includes a rape scene
---
Austin's life is pure hell, he's raped on a daily basis by his boss' son, his mother is bipolar, and he needs his job to provide her medications. One night, when Caleb tries to rape him (again), his father saw them. Caleb lies, declaring Austin was the one who corrupted him and raped him. Austin tries to tell the truth, but it's too late, he loses his job at the bar. When he comes back to his home, tired, hurt, beat, he finds his mother dead. She's killed herself after she discovered what Austin had been through. Alone, traumatized, scared, and mourning his mom, Austin is attacked the next night after the funeral by Caleb. Caleb tries to rape him, and this time, Austin fights back and runs.
This book is about how you survive and heal when your life is hell.
This story was beautiful. We follow Austin and how he tries to stand up for himself.
How he tries to heal from his past. Heal with his friends, heal with loves, and heal with confidence.
The author did a great job, it wasn't a "whining" book on how poor Austin is hurt. Not at all, yes, it's a love story, but it's also a thriller, and I enjoyed it.
The MC's aren't perfect, any of them. And I liked it a lot, I'm tired of the MC's where one is Mr Perfection and the other Mr. Neurotic.
Austin does incomprehensible things sometimes, and Dylan is far away from being the perfect knight in shining Armor. And yes, I confess, I wanted to slap them, you know, like when you're watching a movie and the MC does stupid things and you yell "Why did you do that !!!" but 5 minutes later, he does something adorable, and you forget his previous stupidity. Well, it was the same here, even if they annoyed me, it was never too long, and together they are perfect. They spend the book healing each other from their past, their mistakes, their wounds.
The writing is dynamic, the plot interesting. I was hooked on the story at the beginning and couldn't stop until I finished the book.
That's why it deserves 4 beautiful OptimuMM's.
Enjoy
Ivy
***I would like to thank the author for the privilege and opportunity of reading this ARC. My review is an honest opinion of the book***