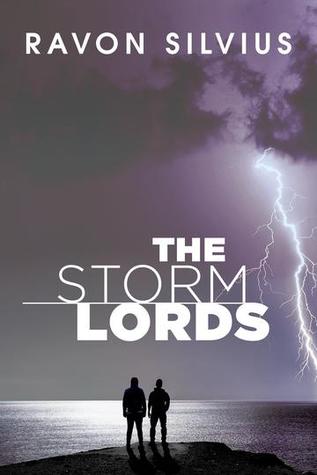 TITLE: The Storms Lords
AUTHOR: Ravon Silvius
SERIES: –
PUBLISHER: DSP Publications
COVER ARTIST: Aaron Anderson
GENRE: Paranormal
E-BOOK: Yes
PAPERBACK: Yes
LENGTH: 254 pages
RELEASE DATE: August 8, 2017
PRICE: $6.99 -e-book / $16.99 –paperback

BLURB:
The heat took everything from Rowen: his parents, his voice when the local cure for heatstroke poisoned him, and the trust of his fellow villagers, who branded him a water thief. It would have claimed his life when he was deemed unworthy of precious resources and left in the sun to die, had not a strange man named Kristoff ridden in on the wind and told Rowen he had power.
Rowen works hard to become a Storm Lord, one of a secret magical group that brings storms to break the heat waves overtaking their world. But Rowen is starting his training at a disadvantage since he cannot speak and is much older than the other novices. The desire to please Kristoff inspires him to persevere even more than the threat of being sent back to his village to die should he fail. Still, he cannot gather rain, and when his abilities manifest, they are unlike anything known to the Storm Lords. Unless Kristoff can help him control his deadly powers, the entire world will be in danger.
Kristoff might be among the mightiest of the Storm Lords, but he's never been a mentor before. For a chance to be with Rowen, he's willing to risk everything.
---
Rowen, 19 years-old, lived in a village in the middle of the desert where the heat spells were the worst. His parents died to a pretty hard heat spell, and he lost his voice at that same times. A year later, his village decided to sacrifice Rowen to the heat spell in order to bring the Storm God. Rowen was left, bonded and naked in the desert.
Kristoff, 21 years-old, was the youngest and the most powerful Storm Lord alive. After breaking a heat spell, Kristoff was flying to his island when he sensed powers below him. He landed in the desert and found Rowen practically dead.
Kristoff decided to take Rowen with him, as an apprentice to be a future Storm Lord.
I LOVED THIS BOOK.
Rowen is so adorable, smart, naïve and heartbreaking. He tries very hard to learn how to write and read for Kristoff and being able to communicate with others. He has a pure heart, he truly wants to help others and save lives. He's so strong, physically but mentally too, despite all he's been through, he still wants to be a Storms Lord and save his village (the same village that tried to murder him in a ritual sacrifice!).
I loved the story, I found it very original, how the world suffers from hard heat spells, what's happening to the planet, and how human beings try to survive. Besides, everything in this book about heat spells and the Storm Lords—how they bring lightning, hurricanes, or storms and how they use it to break those masses of heat, are real. I mean, it's well explained, and it's scientifically true, this book taught me some things that I've never understood at school. (Science wasn't my thing).
The love story between Kristoff and Rowen was sweet, beautiful, and well built. I loved how they were together as mentor and student, and then they started to become a little more like friends, but the more time they spend together, the more the heat between them grows up until it consumes them.
The only little tiny thing that I can say was that sometimes, it was a little too long with too much detail, but really, it's nothing in comparison to how the book is great, and the characters are adorable.
It was a very good book that I enjoyed a lot and it's the perfect read for a hot summer day, with that, you will be completely immersed in the story.
4 OptimuMM's for my 2 lords
***The ARC was provided by DSP Publications. My review is an honest opinion of the book***