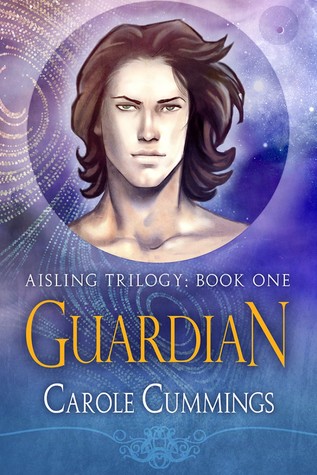 TITLE: Guardian
AUTHOR: Carole Cummings
SERIES: Aisling Trilogy
PUBLISHER: DSP Publications
COVER ARTIST: Anne Cain
GENRE: Fantasy
E-BOOK: Yes
PAPERBACK: Yes
LENGTH: 270 pages
RELEASE DATE: Aug 15, 2017
PRICE: $6.99 –e-book / $16.99 paperback

BLURB:
2nd Edition
As he pursues a man who is not what he seems, Constable Dallin Brayden learns the lines between enemy and ally, truth and deception, and conscience and obedience are not only blurred, but malleable.
Constable Dallin Brayden knows who he is, what he's about, and he doesn't believe in Fate. "Wilfred Calder" has no idea who he is or what he's about, and he's been running from Fate for as long as he can remember. When Wil flees after witnessing a murder, it's Dallin's job to pursue him. Along the way, he's pulled into a maelstrom of ancient myth, fanatical religion, and the delicate politics of a shaky truce between two perpetually warring countries—all of which rests on the slender shoulders of the man he knows is not Wilfred Calder.
Even Dallin's success proves a hollow victory. Wil is vengeful, rebellious, and lethal, and his tale of magic and betrayal rocks the carefully constructed foundations of Dallin's world. Suspicious and only half believing, Dallin must question not only his own integrity and his half-forgotten past, but the morality and motives of everyone around him—including those who hold his own country's fate in their hands.
First Edition published by Torquere/Prizm, 2010.
---
Hum…well, I didn't know exactly what happens here. This book is something.
Dallin is a kind of cop for the city of Putnam. One day when he's investigated a murder, he meets Wilfred Calder the witness of the murder, he's a very mysterious man, and Dallin feels something off with Calder.
Wilfred Calder is on the run, and he tries to escape his captors who want to hurt him. He also has a "gift" that makes people lose control when they're in contact with him—except Dallin. The Guardian who seems not to know who he really is.
I can't say I disliked the book, but I can't say I like it either. It was a little bit confusing actually.
I love when I know where I stand. Where I am, in which timeline, the background and all. Here, there's none, not at the beginning at least and I started right in the action, not knowing who was who and who did what, it confused me for the rest of the book.
But it's also the first book of the trilogy, so it's the book where the plot is built, the story and how Wil and Dallin will have to fight together.
Even, if the plot seems a little bit confusing, the author built a good universe, and it was written well. The action too, and I love the sassy mouth of Wil, he seems all fragile and scared, but he has a good fire in him and didn't give up easily.
Dallin is quieter, but really smart, and hot, like super hot. Huge tall blond guy, totally my type.
I will keep reading the trilogy because other than the confusing part, I wanted to know more.
It's 3 OptimuMM's for me.
***The ARC was provided by DSP Publications. My review is an honest opinion of the book***