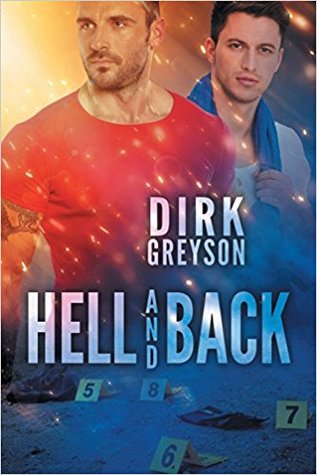 TITLE: Hell and Back
AUTHOR: Dirk Greyson
SERIES: –
PUBLISHER: Dreamspinner Press
COVER ARTIST: L.C. Chase
GENRE: Mystery/Suspense; Contemporary Romance
E-BOOK: Yes
PAPERBACK: Yes
LENGTH: 200 pages
RELEASE DATE: October 27, 2017
PRICE: $6.99 – e-book/ $14.99 – paperback

BLURB:
Seventeen years ago, Forge Reynolds fell in love… and had his heart broken. When Staff Sergeant Gage Livingston was brought into Forge's Army field hospital, temporarily paralyzed, Forge sat with him, read his letters, answered his mail, and formed a connection he thought would last. But Gage was sent home, Forge transferred to a new post, and his letters to Gage went unanswered.
Now in the middle of a bitter divorce, Forge is sick and tired of his husband's manipulation. He's almost ready to make any sacrifice to get closure—then he finds Granger murdered execution-style in their home. Forge had no idea about Granger's illicit activities, but the killers don't believe that. They think Forge has something they want, and they're coming after him.
When Forge's lawyer arranges for professional protection, the last face Forge expects to see is Gage's. Can he even contemplate a second chance for them after almost two decades, or will hope only lead to more heartache? Before they can explore the possibilities, they must figure out what information Granger had—that others are willing to kill for—or that possible heartache could become a certainty.
.
---
For the past eight months, Forge Reynolds has been in a divorce battle with his husband of twelve years, Granger, after Forge caught Granger in bed with another man. Although they are living separate lives, they are still living in the same house, but in different rooms. Both men throw themselves into their work so as their paths rarely cross. Forge is an interior designer for businesses and Granger is a successful lawyer. One night when Forge arrives home, all of the house lights are on but the house seems empty, that is until Forge switches on the light for the garden and discovers Granger's body lying in the grass covered in blood. When the police arrive at the scene, they discover that Granger's home office has also been trashed, as though the killer was looking for something.
Forge is questioned about any motive that there might be for the murder due to Granger's job, but he doesn't know of any reason that something like this could happen because Granger never kept any of his work at home, and he worked mostly in the corporate law sector, not criminal law. Forge is worried about being at home alone knowing that the killer may come back, so it's arranged that he'll have security with him until the case has been solved. When the security company arrives, Forge is shocked to discover that the man who will be with him for the foreseeable future is the same man who broke his heart seventeen years before.
Gage Livingston is the owner of Livingston Security. When he arrives at Forge's house to start the job, he knew there was a high chance it would be the same man from his past as the name is not very common. What he didn't expect, was for the feelings he had in the past to appear so quickly again, and that in itself is a problem. Not only is it unprofessional to be attracted to and have feelings for the person you're supposed to be protecting, but seventeen years ago Forge left and moved on with his life leaving Gage behind without a further thought, and Gage has never really gotten over that hurt. How can he do his job and be in such close proximity to someone he wants but doesn't want at the same time?
Gage and Forge work together to try and find what the killer was after, and in the course of the investigation, unearth some information that proves to be a bigger concern for both of their lives and families than they could have imagined.
Personally, I found the story to be a little too far-fetched and unrealistic. I just don't believe that two people who haven't had any contact for seventeen years would jump straight in to bed together and declare their love for each other after just two days of being in each other's company again. The pace of the story was also too slow for me. If I'm reading a mystery story, I want to be on the edge of my seat with intrigue and suspense trying to guess what's coming next, I just didn't have that with this book. A lot of the time, it was hard for the story to keep my full focus and attention. The other issue I had was that because it was written in the third person, there was a lot of dialogue between the characters which jumped around quite a bit. I found myself getting confused by who was speaking at times, so would have to back track a few sentences or to the last paragraph, just to keep everything straight in my head.
However, I did really like the "flashback" parts to when Forge and Gage were in the Army together, and would have loved for it to have been a bigger part of the story. I wanted to know what was said in the letters that Forge sent, and how they spent their last day at the military hospital together before Gage was transferred. I think getting to know more about what they were like together when they were younger would have made it easier to relate to them as they are now.
I so wanted to love this book when I first saw the blurb and then when I started reading, but unfortunately, it just didn't push my buttons. But then, maybe you'll love it? And isn't that the best thing about books and reading? We all see the story in our own way.
***The ARC was provided by Dreamspinner Press. My review is an honest opinion of the book ***