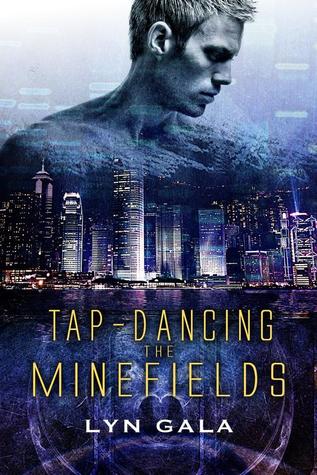 TITLE: Tap-Dancing the Minefields
AUTHOR: Lyn Gala
SERIES: –
PUBLISHER: DSP Publications
COVER ARTIST: Anne Cain
GENRE: Sci-fi
E-BOOK: Yes
PAPERBACK: Yes
LENGTH: 334 pages
RELEASE DATE: November 14, 2017
PRICE: $6.99 e-book / $17.99 paperback

BLURB:
Sometimes the fiercest battle a man faces is against himself.
In the hidden alleyways of New York City, George "Tank" Tankersley defeated what he believed were demons. But the victory cost too much. Tank joined the Army in the hope of outrunning the guilt haunting him—only to stumble into a vast and deadly conspiracy, the enemies he'd hoped to never encounter again, and the arms of the brilliant, eccentric scientist tasked with saving humanity.
In a world where the line between dark magic and alien science is thin, Dr. Lev Underwood must reverse engineer recovered alien technology to give humans a fighting chance against the extraterrestrial beings who consider Earth nothing more than a petri dish. His old friend, Colonel Clyde Aldrich, wants to protect Lev from entanglement with the scarred and emotionally volatile young soldier, but Lev cannot help the pull he feels toward Tank. Still, his first loyalty is to the secret government program, and love might have to take a back seat to protecting the world. But if he can find a way, Lev wants both.
---
Private George "Tank" Tankersley is 20 years old, and a young soldier. He joined the military after high school, where he spent 5 years with his friends fighting against demons.
The last thing he expected was to stumble into a super-secret military base in Alaska, in an alien ship, where he meets Dr. Lev Underwood, a scientist specialist in alien's technologies.
Tank realizes that maybe what he's been through during High School with his friends wasn't demonic, or maybe it was.
I'm not a huge fan of Sci-fi, it's not my kind of book most of the time, but I admit that this one was really good.
At first, I was a little lost, Tank's past was very present, and there's a lot of references about his battles during high school with his friends. The same thing with Lev's past, how he and Clyde (the colonel of the base) were kidnapped by the aliens and prisoners during 6 months in an alien ship and how they met John a human born and raised in this alien ship. So yes, at the beginning I was a little lost, I was sure that this book was a sequel. But the more I read, and the more I understood the story, I understood the background.
When I understood the context and all, I really enjoyed the book, the plot and the characters. Even if Tank is the main character, the book isn't all around him and Lev. Actually, the love story between them isn't the main plot. There're a lot of characters, all very endearing (except Mary, I don't like her).
It was a pure sci-fi book with action, aliens, and a lot of humour (Tank and Clyde are very funny). I hope the author plans to write another book, with John, I'm intrigued by this human-alien, and I would love to know more about him, especially him in a relationship (I'm already laughing thinking of him and his natural skill for interaction).
Anyway, it was a mix between Independence Day and Stargate in a gay version.
4 OptimuMM's for The dishwasher, the Doc, and their misfit team.
***The ARC was provided by DSP Publication . My review is an honest opinion of the book ***