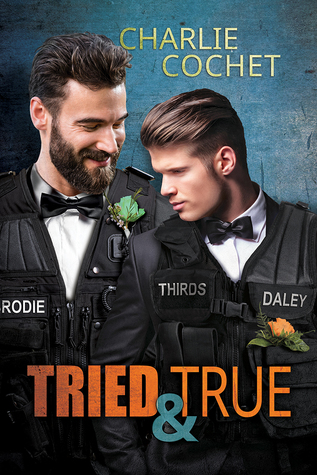 TITLE: Tried & True
AUTHOR: Charlie Cochet
SERIES: THIRDS
PUBLISHER: Dreamspinner Press
COVER ARTIST: L.C. Chase
GENRE: Paranormal; Shapeshifter; Mystery/Suspense
E-BOOK: Yes
PAPERBACK: Yes
LENGTH: 254 pages
RELEASE DATE: November 24, 2017
PRICE: $6.99 -e-book / $16.99 -paperback

BLURB:
When THIRDS agent Dexter J. Daley met Team Leader Sloane Brodie, he couldn't have imagined how slamming into his new partner—literally—would shake both their worlds. Now four years later, they've faced dangers, fought battles both personal and professional… and fallen deeply in love. Now their big moment is finally in sight, and they're ready to stand up together and make it official. Unfortunately, as the countdown to their big day begins, an enemy declares war on the THIRDS….
With their family in danger, Dex and Sloane are put to the test on how far into darkness they'll walk to save those they love. As secrets are unearthed, a deadly betrayal is revealed, and Dex and Sloane must call on their Destructive Delta family for one last hurrah to put an end to the secret organization responsible for so much devastation.
Dex and Sloane will have plenty of bullets to dodge on the way to the altar, but with happiness within their grasp, they are determined to get there come hell or high water…
---
We are saying good bye to Dex and Sloan's interesting journey…
This is the last book of the THIRDS series where Dex and Sloan finally have their happy ending.
The first part of the book is a slow read, very romantic, very mundane letting us into Dex and Sloan's "everyday". They are on vacation, preparing for their wedding with rehearsals, flower picking and cake tasting. Sloan let's Dex to choose as he wishes because for Sloan it's more important to be with Dex than anything else.
Dex is busy with everything, but he finds time for him and Sloan to relax. The secret he keeps from his father, that they joined TIN eats his at his conscious, but he only does it to protect Tony.
Honestly, I'm not used to this "slow burn" from our guys, so for me it was a bit difficult the first part of the book, but then things changed…
The second part of the book is filled with action as we are so familiar. I can't really say what's happening because I would spoil it for you guys but "it" hits the fan pretty bad.
There is danger lurking in the shadows, as always, but now it hits to close to home. The extremist group of Therians wants their revenge and there is nothing those villains wouldn't do to achieve that. The Destructive Delta need to reach out and find allies to save their family, allies like Wolf, Hudson's brother and they must also involve TIN agents. To trust them, Dex and Sloan are out of their comfort zone, mostly Sloane when he has to face Wolf.
There is blood, revenge, anger and fury, physical and emotional hurt. Well, the emotional hurt reaches us, readers too, leaving a bad taste in our mouth when we have to say good bye to Dex and Sloan.
I would like to congratulate and thank Charlie for this amazing journey!
***The ARC was provided by Dreamspinner Press. My review is an honest opinion of the book ***