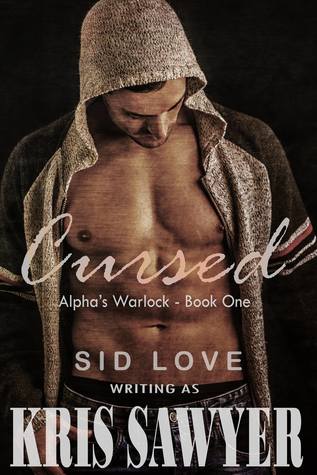 TITLE: Cursed
AUTHOR: Kris Sawyer
SERIES: Alpha's Warlock
PUBLISHER: Creative Minds
COVER ARTIST: Sidney Lowell
GENRE: Paranormal; Shapeshifter; Urban Fantasy
E-BOOK: Yes
PAPERBACK: No
LENGTH: 80 pages
RELEASE DATE: September 5, 2017
PRICE: $3.57 – e-book

BLURB:
Clyde Barrington is a werewolf with a curse on his head. Every night, he shifts from human to wolf and lives the life of a lonely predator, never fully accepted by his pack. When he saves a handsome stranger from a fire, everything changes.
In a world divided by the ancient feud between werewolves and warlocks, Clyde and Terry must learn to trust each other. When wolves start to disappear, their bond is tested by the fear of a pack now balanced on the edge of destruction.
Amidst a web of lies, deceits and betrayals, Clyde must decide where his loyalties lie, and choose between a forbidden love and the ties that bind him to his brothers. Is Terry an enemy to the pack, or the saviour that will lead them out of the darkness?
---
Terry is a young man and a Warlock. After his house burned and his life was saved by a strange wolf, Terry meets Clyde.
Clyde is a cursed wolf. Every day, when the sun goes down, he's forced to shift into his wolf form for the rest of his life.But when Terry comes into his life, things change for him, good or bad, it's up to them.
It was a short read. I liked this book, Clyde and Terry are adorable together, but it was too short for me to get attached.
The plot is interesting, Werewolves, Vampires and Shape-shifters were at war with Witches and Warlocks. After years of a bloody cruel war, a truce between them was settled. I liked the idea, but I was frustrated. Since it's a short story, I think the author tried to put a lot of information in order for the reader to understand the story, universe and plot. I totally get it, and it's not a simple exercise to do. But here, it was too fast, too superficial. Everything is on the surface, from the meeting between Clyde and Terry to the mysterious disappearing and the denouement.
It's book 1 of this series, and the end promises us another book coming soon where we'll learn more about them, I just hope the author will dig a little more into the characters and plot.
It's a 3 stars for me, and I'm going to read the next one coming soon.
***I would like to thank the author for the privilege and opportunity of reading this ARC. My review is an honest opinion of the book***