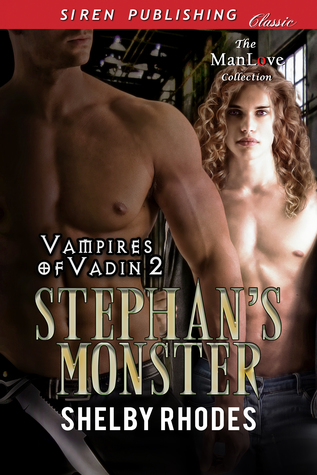 TITLE: Stephan's Monster
AUTHOR: Shelby Rhodes
SERIES: Vampire of Vadin
PUBLISHER: Siren Publishing
COVER ARTIST: Harris Channing
GENRE: Paranormal / MPreg
E-BOOK: Yes
PAPERBACK: No
LENGTH: 208 pages
RELEASE DATE: December 13, 2017
PRICE: $4.99 -e-book

BLURB:
Jayden knows he's a monster. The people he killed were horrible, but it didn't change what he was. And being taken in by Stephan Everwood at fifteen hadn't changed his homicidal tendencies. Yet ten years later he finds himself struggling to be someone he's not. Then, despite thinking he lost most of his emotions years ago, Jayden discovers that not only is he not as empty inside as he thought, but that his monster is more present than ever before.
Stephan freely admits he has some issues. His self-doubts could be unrelenting and Stephan's need to fix things tended to go too far. It blinded him to Jayden's struggles. In the end his refusal to listen to what Jayden was trying to tell him has unfortunate results. When Stephan finally accepts who Jayden is, he must also face all that he had locked away inside.
Their difficulties brought them together. Their love healed them. And when the past tries to tear them apart, their darkness saved them.
---
Jaden is a monster, that's how he presents himself. He kills people, but not innocent people, only the criminals who are under the justice's radar. One day, he meets Stephan, a young man who decides to take him under his wing.
Stephan is a blood Elf and very powerful. He survived a horrible experience and tries to move on with his life. When he meets Jaden, he wants to help him to have a normal life.
Jaden is different, so is Stephan, but together, they bring out the best of each other. But can they really forget their horrible pasts and have a happy future together? That's what they'll have to find out.
I loved this book, it was a super good read.
Jaden is kind of a sociopath. He's a killer, and he has no feelings—he's completely detached from the world. After what he's been through, it understandable. It's only for Stephan that he tries to adapt to their realm and rules. It works at some points, but his true self is there, and he can't deny who he is for too long. When he identifies his feelings for Stephan, he becomes an overprotective, jealous and scary (for the others) boyfriend. I Loved it!!!
Stephan is kind, generous and a caring man. What he lived and survived is awful, but Stephan moved on, and is trying to overcome his fears. Jaden helps him, and step by step, Stephan gives everything for his man.
Those two men are perfect for each other. They are the perfect mirror of each other. What Jaden had on the surface, Stephan has it under. The monsters sometimes aren't exactly how we think they are.
The author put some beautiful metaphors into her story that I really loved. It was poetic!
She improved her writing, her style, and we see the difference between book one (that was good) and book 2 (that is better).
The characters are well developed, more profound, the story is focused on them. We follow them during a decade, and how they evolved individually but also together in their relationship.
The plot was good, well built and easy to follow.
Good Job! I was completely hooked on the book. And I had to ninja-read the book at work (Ninja-Read definition = It's when I have to hide my kindle under some files at work and have a concentrated face like if I was trying to find a solution to save the world when I was, in fact, reading)
I can't wait for book 3 now!!! (the ransom of the glory)
It's 4 OptimuMMs, because… Bow!!!
***I would like to thank the author for the privilege and opportunity of reading this ARC. My review is an honest opinion of the book ***