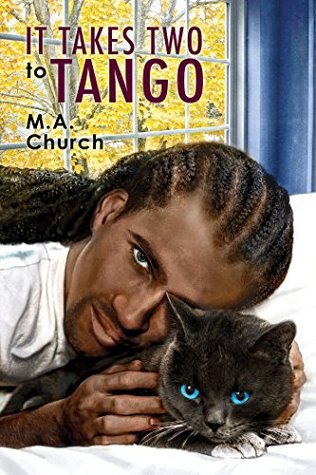 TITLE: It Takes two to Tango
AUTHOR: M.A Church
SERIES: Fur, Fang and Felines
PUBLISHER: Dreamspinner Press
COVER ARTIST: Paul Richmond
GENRE: Paranormal; Shapeshifter
E-BOOK: Yes
PAPERBACK: Yes
LENGTH: 230 pages
RELEASE DATE: September 26 2016
PRICE: $6.99 -e-book / $14.99 -paperback
BLURB:
Fur, Fangs, and Felines: Book Three
Can two very different men find the love they need to survive?
Remi Ginn's an easygoing werecat with a love of snarky T-shirts. He would be perfectly happy with a human mate. Is that what the goddess Bast gives him? Of course not. Instead she gifts him with Marshell, a Vetala, a snakelike nonshifter who drinks blood to survive. A man who's just as toppy as Remi—and even more powerful than the West Falls Clowder's Alpha and heir apparent.
While Remi is deciding whether he can handle the fates' choice, hunters attack Marshell. Afterward, in an explosion of passion, Remi and Marshell mate and Remi declares Marshell his. Now they have to figure out how to make their relationship work as they dance around each other.
The clowder is in turmoil, and Remi's acceptance of Marshell rocks the very foundation of the insular group. The consequences will be far-reaching. And if that isn't problem enough, the situation with the hunters is far from resolved… as proved by the appearance of an Alpha werewolf.
---
Remi is a beta for his clowder, the most powerful beta actually. He's laid back, funny, but very dominant.
Marshell is a vetala. He's powerful, and real player while being imposing.
When Marshell and Remi meet at a Thanksgiving diner, they understood that they're were fated mates. And Marshell, excited by this discovery releases his incredible and powerful power.
Remi's clowder has a problem with how powerful Marshell is, and they aren't sure they want a paranormal more powerful than the Alpha. Besides, Marshell is harassed by an ex hook-up who causes a lot of damages.
Remi and Marshell want to be together, but they'll have to survive the threat against their lives and their love.
This one is my favorite of the series.
I've loved Remi since book 1. He's funny, smart, protective, strong and tolerant. He was the only one accepting Kirk and supporting him. He has a sassy mouth and sassy T-shirts (yes, a T-shirt can be sassy too). He wasn't scared of Marshell's power. Even if he admits that his mate can be intimidating, he always supports him and fights hard for him.
Marshell is very strong, powerful and dominant. People assume that because he is who he is, he isn't sensitive. But Marshell is like everyone, he can be afraid, sad and needs to be loved for who he is, and accepted freely. That's Remi for him.
The two of them are beautiful and adorable together.
The author regaled me with this book. The subjects in this one please me too, racism and sexism are aborded too. They were present since the beginning of the series, but here, they're more present. Besides, I love mix-race couple, and in this case, Remi and Marshell are a mix-race-species gay couple. I love it.
It's 5 OptimuMMs for The big guy and his sassy cat
***The ARC was provided by Dreamspinner Press. My review is an honest opinion of the book ***