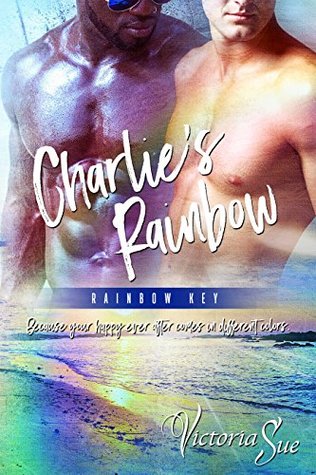 TITLE: Charlie's Rainbow
AUTHOR: Victoria Sue
SERIES: Rainbow Key
PUBLISHER: Self-Published
COVER ARTIST: Jay Aheer
GENRE: Contemporary Romance; Disability
E-BOOK: Yes
PAPERBACK: Yes
LENGTH: 220 pages
RELEASE DATE: April 10, 2018
PRICE: $3.99 e-book / $9.99 paperback
BLURB:
Eventually being diagnosed with reactive attachment disorder as a child, difficult didn't even begin to describe the nightmare of Charlie's life. Escaping the drug-induced limbo he existed in and running from his alcoholic mother and despotic grandfather, he finally finds some peace and a home on Rainbow Key.
Noah is also running, even if he doesn't realize it, and the guilt he feels over his brother's suicide chases him no matter where he goes. When he meets and falls for Charlie, he finally thinks he might have the chance to make a home and a future with the adorable man, except he doesn't realize that the secret that Charlie is hiding is the one thing that he fears the most.
And not even a chance of mending their future can heal the scars of Charlie's past.
---
Charlie suffers from reactive attachment disorder. He can't be touched without been physically hurt and can't eat food all mix together. He is also an incredible artist at Rainbow Key, the hotel run by his friend Joshua.
Noah is lost when he came to Rainbow Key. He was supposed to be there for his honeymoon, when he was stood up at the altar by his fiancé. Hurt and angry, he tries to find out what to do next in his life. But instead he meets Charlie, a beautiful man with special needs.
They didn't expect to be hit by this amazing chemistry between them, but with their traumatic past, and hidden pain, can they really have their HEA?
Charlie's Rainbow is book two in the Rainbow Key series by Victoria Sue.
I was excited to read Charlie's story. When I met him in Joshua's Rainbow (book 1 of the series), I was intrigued by him. I wasn't disappointed.
Charlie has a sensitivity disorder. Being touched, eating food all mixed up, hurts him, the water hurts him, he's a prisoner in his own body. All his life, he was misjudged, misunderstood and seen as weak. But when he met Joshua and came to live at Sanibel, Charlie starts to take his life back. He has a lot of issues yes, but he's not weak. He's very strong despite his disorders and he's not fragile, sensitive, yes, but fragile…? Not at all. I really like this duality in him, how people sees him, and how he really is. He's perfectly lucid about his disorders, that doesn't mean he can't do what he wants. I love him a lot.
Noah is still mourning his brother's death. He didn't pass it, didn't do his grief properly and he is hiding all his pain for years. When he meets Charlie, he couldn't help to think about Jacob (his brother) and all the guilt and pain assaulted him right back. I like Noah, he was completely lost, more than Charlie in my opinion, but at the same time, he was very caring and intuitive with Charlie. He's the one who really got him in a short time. They were perfect for each other, they were the balm to their pains.
This book is a little bit different of what we're used to have with Victoria Sue. No hot steamy sex scenes , not this time, not with a character who can't be touched, and you know what? I loved it. It was coherent with the plot and the characters, besides it wasn't need in this book, the emotional connection and how step by step they get to know each other was perfect…. And their make out's session super-hot.
But what I liked more in this book, was that it wasn't Charlie who need help at the end. Charlie knows his issues and face them, the world judge him for that, but he knows. It worst to pretend to be "normal", to not have any issues, and one-day collapse under it. Not Charlie here.
If you want to read a beautiful and sweet love story, I highly recommend this book.
It's 4 beautiful OptimuMMs for Noah and Charlie.
***I would like to thank the author for the privilege and opportunity of reading this ARC. My review is an honest opinion of the book ***
Review edited by : Laura McNellis