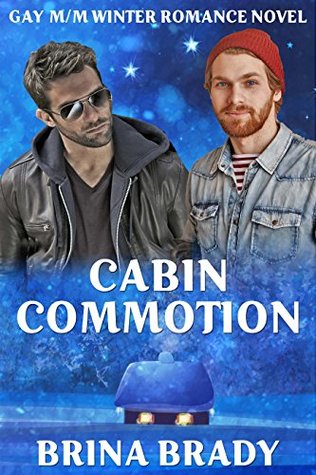 TITLE: Cabin Commotion
AUTHOR: Brina Brady
SERIES: No
PUBLISHER: Self
COVER ARTIST: Brina Brady @ Brina's Bargains
GENRE: Contemporary Romance
E-BOOK: Yes
PAPERBACK: Yes
LENGTH: 402 pages
RELEASE DATE: February 19, 20108
PRICE: $3.99 -e-book / $16.99 -paperback
BLURB:
High-paid escort Marcus graduates college and he's ready to leave The Manor. Working for pimp Kalepo for four years, Marcus believes there's no way out without paying a fatal price. When Kalepo ends Marcus's apartment lease and moves him into his home as his full time escort without his permission, Marcus leaves California on a train to New York City and a bus to a rented Vermont cabin for one month to hide from Kalepo and to think about his future.
Playboy Blaze is the son of Sal Bossio, a New York City Italian mobster. His father orders him to his Vermont cabin for one month while he settles mob business. Blaze hires a rent boy for one month, but unexpected events occur and he finds himself alone in Vermont. When he reaches his cabin, he finds a stranger sleeping in his bed. The gorgeous gingered-haired man could be a hitman sent by his father's enemies.
Two lonely men solve the cabin commotion by sharing the only bed in the cabin during their sex fest, saving hidden pasts and tough decisions until the month ends.
---
Well, Brina has done it again. She has brought two characters together that have hot chemistry from the start. They also have secrets too. Brina does such a great job of roping me into her storytelling. I get emotionally involved, and she gets my temperature rising.
Marcus is a sexy, ginger rent-a-boy that has graduated college and is ready to move on to better things. Kalepo, his boss, has the idea of moving him in and keeping him for himself. Mind you; he is not a nice man. So Marcus runs away and plans to rent this cabin in Vermont to figure out what to do next. This cabin is perfect and secluded, and he feels safe until he's woken up with a gun to his head.
Blaze's mafia father sends him to his cabin for a month. When Blaze arrives, he discovers the sexy ginger in his bed and thinks it might be his father's enemy to take him out. Not knowing who this hot ginger is, he holds a gun to his head and wakes him. Marcus is sure that Kalepo has found him. Even with both thinking the other is the enemy, they can't stop the naughty thoughts going through their heads.
The two men can't deny their intense attraction to each other, but they can't seem to be honest with each other either. With Kalepo on the hunt for Marcus, the secrets they each hold and life's obstacles, will they be able to survive? Will they learn to trust one another to finally be honest? Will love conquer?
***I would like to thank the author for the privilege and opportunity of reading this ARC. My review is an honest opinion of the book ***
Review edited by : Laura McNellis