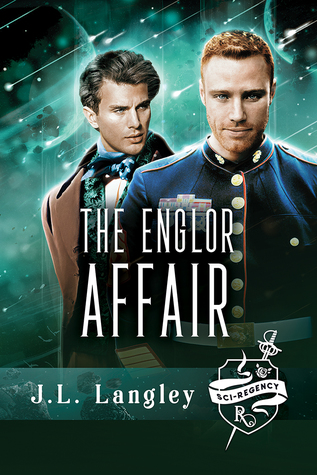 TITLE: The Englor Affair
AUTHOR: J.L. Langley
SERIES: Sci-Regency
PUBLISHER: Dreamspinner Press
COVER ARTIST: Tiferet Design
GENRE: Sci-Fi
E-BOOK: Yes
PAPERBACK: Yes
LENGTH: 254 pages
RELEASE DATE: Aug 28, 2018
PRICE: $6.99 –e-book /$16.99 -paperback
BLURB:
A Sci-Regency Novel: sequel to My Fair Captain
Anxious to escape the confines of Regelence society, if only for a little while, Prince Payton Townsend poses as an admiral's aide to further investigate a dangerous conspiracy. Payton plans only to use his computer skills to help navigate the tangled web of mystery and deceit on planet Englor, then return home, but he finds himself drawn to the charismatic Colonel Simon Hollister.
Simon, however, is no mere soldier—he is heir to the throne of Englor, and his life is meticulously planned to include a bride and heir. Unlike Regelence, the Regency society on Englor disapproves of same-sex relationships, and Payton and Simon's attraction plays out in a daring secret affair, one Simon never expected would grow into love.
Risking scandal and certain ruin if they are discovered, Payton and Simon uncover more about a common enemy and a deadly plot that imperils both their worlds. But in this game of interplanetary intrigue, love might be the ultimate casualty….

---
This is the second installment in Sci-Regency series. Actually, this series is a re-read for me, but I couldn't pass up on the possibility to review this series on OptimuMM as well. So be prepared for the next review of the sequel as well.
I remember the feeling I had when I first read this series. It was soon after I discovered MM. Back then, I was struggling to accept myself openly as a gay man. These books were a big help to overcome the guilt and all the struggle.
Me being a bit conservative romantic-wise and a hopeless romantic also and a bit of sci-fi nerd this series hit home like nothing else. If you were reading the first of the series (and I highly recommend you do) you know already that Regelence is a regency planet were man marries man. I will be honest with you, if that planet had been real, I would be already on my way. I love how young men's virtues are guarded. We read about this mainly in MF, when the young, noble lady must remain virgin till marriage. In this series, the young lords have the same faith.
Payton aka Lord Plague was raised in the same manner. So when his brother-in-law, the Admiral of the battleship Lady Anna of IN, brings him along as his aid to Englor where they continue to investigate Aiden's and Jeremy's kidnapping, he finds himself in scandalous situations. I'll just tell you one thing …gym locker room…
Englor is not so open for same-sex couples, and by that, I mean they're quite homophobic. Si, being the next in line to become the king of Englor, must hide his homosexuality. Then he meets Pay, the Admiral's aide and all his precautions are blown away.
I love this series with all my heart. Pay's insecurity and Si's doubtlessness doesn't seems to get along. I had some difficulty with some parts of the book, because being raised in our society, for me, it seemed that Payton was given a feminine role. But then I schooled myself for being so narrow-minded and I put myself in Payton's shoes, remembering that Payton was brought up to be a Consort of another man.
I hope you'll enjoy it as I did!
***The ARC was provided by Dreamspinner Press. My review is an honest opinion of the book ***
Review edited by : Laura McNellis