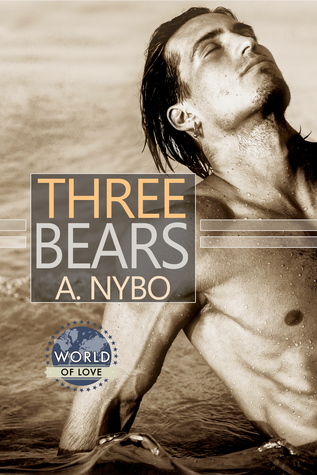 TITLE: Three Bears
AUTHOR: A. Nybo
SERIES: World of Love-Western Australia
PUBLISHER: Dreamspinner Press
COVER ARTIST: Alexandria Corza
GENRE: Contemporary Romance; M/M/M
E-BOOK: Yes
PAPERBACK: No
LENGTH: 82 pages
RELEASE DATE: October 5, 2018
PRICE: $3.99 -e-book
BLURB:
At Three Bears surf break, the attraction between a group of friends is anything but "Luke warm…."
Dan goes to stay with his best friend Josh in Margaret River, the surfing capital of Western Australia, to sort out his sexual confusion. But his best friend is the source of that confusion. Having never been attracted to a man other than Josh, Dan fears risking their friendship just to discover men aren't his thing.
Within the first few days, Dan meets Luke, a local barista who offers him surf lessons. Dan soon finds himself emotionally coveting not one, but two men. When they go to Three Bears, his hidden desires begin to emerge. As the ambiguity of Dan's mixed signals clears, it becomes apparent both of his surfing companions want him—badly.
It is only when Luke and Josh hook up that they formulate "Operation Three Bears," an adventurous plan that might lead to a satisfying outcome for all of them.
---
This was a fun and enjoyable read. This author did a great job building up each of the three characters and putting me right in their heads. This is the first book I've read from this author, and I love the whole opposites attract. We are our own worst enemy, and this is proven here. As well as the fear of coming out as gay, lusting for your best friend and new surfer guy and the fear of losing the relationships. What a combination for a stressful guy but these two guys pull him out of his shell very, very slowly.
Dan has been best friends with Josh since they were younger. Josh is openly gay, but Dan just ended an engagement with a woman and has come to stay with Josh. Josh has been in love with Dan for years, but Dan has no clue. Dan thinks he's gay and wants Josh but he's to chicken to tell him. He doesn't want to lose him as his best friend. They're both struggling with their feelings towards the other but damn if either will do anything about it.
Dan meets Luke, the hot surfer, when getting coffee one day. Luke is his barista, and the moment Luke touched his skin, tingles went through his body. This confuses Dan even further, but he agrees to surfing lessons with Luke. Dan introduces Josh and Luke, and they hook up. As Dan watches this, his poor brain can't handle everything. Josh and Luke come up with a plan to bring Dan out and enjoy each other as the three bears.
Now, I admit, there were times I wanted to reach out to Dan and strangle him or hug him. I wanted him to find happiness and quit worrying so much, but it just isn't in his DNA. Will Josh and Luke be able to pry Dan away from his brain? Will Josh and Luke keep hiding their relationship if things don't go their way? Will Dan be able to use his wood other than for himself? All very good questions and I had to read the rest of the book to get my answers. Enjoy this fun read and three-way love story.
***The ARC was provided by Dreamspinner Press. My review is an honest opinion of the book ***
Review edited by : Laura McNellis