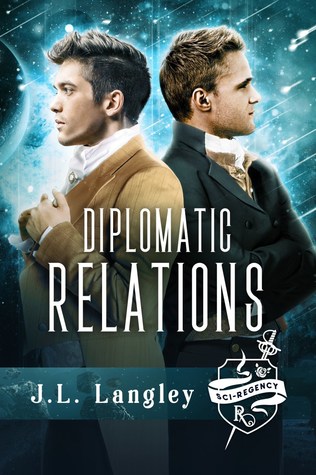 TITLE: Diplomatic Relations
AUTHOR: J.L. Langley
SERIES: Sci-Regency
PUBLISHER: Dreamspinner Press
GENRE: Sci-Fi; Regency
RELEASE DATE: Feb 29, 2019
BLURB:
Opposites don't just attract… they sizzle.
A lusty special forces soldier who lives by his own set of rules, Dalton Fairfax decided long ago to stop wishing for his father's love, and he found his calling. Now that he's back home and between assignments, he finds himself at loose ends. When the opportunity arises to play bodyguard and help out his country, Dalton jumps at the chance. Not only does it keep him busy, but it just so happens that his charge is the man he saw on leave last month and hasn't been able to get out of his head.
Heir to a dukedom and a conservative politician, Blaise Thompson strives to prove himself worthy of carrying on the family legacy as the next IN Councilman. However, his closest competitor keeps getting in the way and taking credit for Blaise's ideas. Maintaining his stellar reputation isn't easy to do while keeping his outrageous younger brother in line and foiling his rival's personal attacks. He has no time for a guard and even less time for romance.
When a priceless antique goes missing, Blaise and Dalton discover that Regelence has larger problems than just IN plots. Now the only way to stop a scandal that threatens both of them is to compromise, and they are forced to confront the risk of losing everything… even each other.
---
I remember, a couple of years ago when I discovered this genre, MM, and it was still a forbidden read, I was struggling to accept myself, and this series was one of my firsts. Me being a romantic and sci-fi fan, this series was a dream come true.
We can be part of the Townsend princes HEA, and there we meet Dalton, the prince's cousin. He's infamous in the Regency society, his scandalous behavior, and his affairs with married men. This behavior pushes the king-consort, his uncle, to send him into IN.
Now after two years of him serving in the IN, he's finally home but not for long. Between missions, he volunteers to guard Blaise Thompson, an intern in the House of Lords and next IN Councilman. Dalton has a long-time crush on Blaise, and this will be the perfect opportunity to seduce the young lord.
Blaise has never been attracted to anybody before. When he literally collides with Dalton, his life changes drastically. He's known for his proper behavior. He strictly protects his reputation, not like his younger brother, Brannon, Prince Aiden's best friend, who is always in between mischiefs.
Now, with new news revealed by the IN secret plans, the King assigns every lord a guard. Blaise ends up with Dalton. He can't fight the attraction between the two of them. Stolen kisses, inappropriate touches—this what his life came too.
I very much liked this story, but in the end, I just wanted to punch Blaise right in the nose. The act he pulled really hurt Dalton, who must deal with family drama, and above all, the IN's secret plan against Relegence.
There a few things that are not clear to me in this society, and one of those is if there are two Lords, how do they decide which young lord can be courted and which one does the courting…
I only gave 4 stars because Blaise doing what he did in the end.
***The ARC was provided by Dreamspinner Press. My review is an honest opinion of the book ***
Review edited by : Laura McNellis