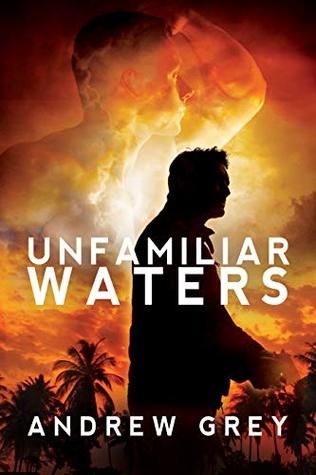 TITLE: Unfamiliar Waters
AUTHOR: Andrew Grey
SERIES: –
PUBLISHER: Dreamspinner Press
GENRE: Contemporary Romance
RELEASE DATE: January 8, 2019
BLURB:
With the pressures of the job bearing down on him, police officer Garrett Wreckley needs a vacation—in fact, he isn't given a choice in the matter. Since the water has always soothed Garrett's soul, he heads to the Caribbean, hoping some time alone sailing on the open water will help him pull himself together.
But even though he's taking a break from law enforcement, Garrett can't get rid of his cop's instinct so easily.
He meets Nigel, a young man as innocent as he is beautiful, who grew up sheltered from the world, exploring the beaches and tropical forests with only the company of his aunt, his brother, and the wildlife and sea creatures he befriended.
As sweet, passionate love blooms, their time in paradise feels too good to be true… and Garrett's gut and training tell him that might be the case. As he investigates, he quickly realizes everything is not as it seems. Will his snooping destroy not only their romance, but everything Nigel believes about his life?
---
Unfamiliar Waters is another great book by Andrew Grey, and I greatly enjoyed reading it. It's slightly different than Andrew's other books, but that didn't stop me from enjoying it just as much as I enjoyed reading his other books.
I loved the many different tropes that are in this one story. We have hurt/comfort and second chance at romance with Garrett losing his husband and then finding love again with Nigel who has also suffered a loss in losing both of his parents. There's also a mystery/suspense aspect to the story surrounding Nigel and his brother and how they came to be living on their island and how they're kept isolated from the outside world. Experience/innocence goes together with the first-time romance between Garrett and Nigel. Nigel might be innocent and not have a lot of experience with the outside world, but he knows what he wants, and he isn't afraid to go after it. The experience of Garrett combines with the innocence of Nigel and culminates in a series of realistic situations. I also loved the slow burn romance between Garrett and Nigel.
The story starts with police officer Garrett Wreckley using work to get over the loss of his husband and soul mate. When he almost kills somebody that has already surrendered in a police bust, he's forced to go on a mandatory vacation for a month. He'd always had a love of sailing, and so he rents a sailboat and heads for the Caribbean.
While taking shelter in a small cove from a storm, he encounters Nigel and realizes that he isn't alone on the island. All of his police instincts are put on alert when he notices how innocent and unworldly Nigel is and after finding out that he's been on the island for eleven years with only his younger brother, his aunt, and his caretaker for company. He finds it even stranger when he finds that Nigel can't even interact with the locals of the island.
I loved how innocent and fun-loving Nigel is. I also loved the chemistry between him and Garrett. He's also very insightful for someone that has had such limited outside experience.
I also liked Garrett. He's a typical cop. He comes off as being abrasive and distrustful but has a heart of gold. He feels incredibly guilty of his attraction to the innocent and beautiful Nigel but he can't fight his attraction for long, and he will do everything in his powers to protect Nigel and his brother.
The story culminates with Garrett, Nigel, and his brother being back in New York and we do get a glimpse into how their relationship progresses away from being on the island.
I hope that Andrew Grey writes more books like this one. I greatly enjoyed reading it and would recommend it to anyone. It's another five-star read for me.
***The ARC was provided by Dreamspinner Press. My review is an honest opinion of the book ***
Review edited by : Laura McNellis