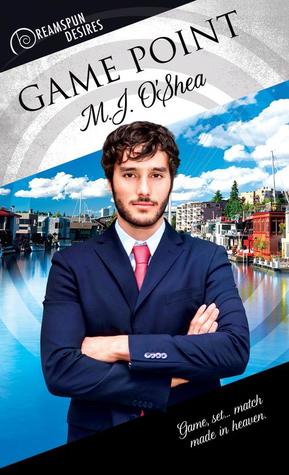 TITLE: Game Point
AUTHOR: M.J. O'Shea
SERIES: Dreamspun Desires
PUBLISHER: Dreamspinner Press
COVER ARTIST: Bree Archer
GENRE: Contemporary Romance
E-BOOK: Yes
PAPERBACK: Yes
LENGTH: 194 pages
RELEASE DATE: November 1, 2017
PRICE: $4.99 – e-book/ $9.99 – paperback

BLURB:
Game, set… match made in heaven.
Spoiled socialite Quinn Valenzuela has no interest in sports or his family's huge sporting goods empire, Sparta Athletics. So when Quinn learns his grandfather has died and he's in control of the corporation, no one is more surprised than Quinn himself.
Dedicated COO Porter Davis has little time and less patience for brats like Quinn who have never done a day's work, but circumstances leave him with little choice. Quinn claims he's ready to leave partying behind and grow up, but it'll take more than words to earn Porter's respect. As it turns out, they can work—and play—together after all. A friends with benefits arrangement makes sense for the two busy men, but are they too different for it to ever develop into more? Not if Quinn can convince Porter he has his head in the game.
---
What can I say? Game Point was a book that completely took me by surprise. When I first started reading the book, I thought that it was going to be a slow read and something I'd struggle to get into, but I'm happy to admit that I was very very wrong. The book was so attention-grabbing and enjoyable I really didn't want it to end. There were even a couple of scenes that almost brought a little tear to my eye, which was completely unexpected.
Porter Davis is an ex-tennis star whose career ended due to an injury. Now at thirty-seven years old, Porter is the COO of Sparta Athletics in Seattle, Washington. Porter lives on his houseboat on Lake Washington with his sister Perry. His best friend, who's more like family, is Marisol, who's the daughter of the owner of the company. When Porter receives a call in the middle of the night from Marisol to say that her father has died of a heart attack, he rushes to the hospital to be by her side. When making the funeral arrangements, Marisol tells Porter that she needs to call her son Quinn to let him know what has happened to his grandfather. This puts Porter on edge because he doesn't particularly like Quinn. He sees him as a lazy, selfish, spoiled brat, who only cares about travelling and partying and spending the money his grandfather's company makes. But because Marisol is his best friend, Porter would never hurt her by revealing his feelings about Quinn.
Quinn Valenzuela spends his time travelling around the world from party to party and resort to resort with his two best friends, Dane and Hunter. At twenty-six, he's starting to become tired and bored of the socialite lifestyle, but at the same time, he can't think of anything else to do. He left home as a child to go to boarding school, so his family home has never felt like "home" to him and staying in one place for an extended period of time has never appealed to him either. Quinn returns home from a night out with his friends to missed calls and messages from his mother. When he returns the calls, she tells him that his grandfather has passed away and the company jet is being sent to bring him home. Quinn's plan is to stay home for a few weeks until the funeral is over and everything has been tied up, and then meet up with his friends again in whatever country they happen to be in, but when his grandfather's will is read, those plans go out the window.
Porter and Quinn are forced to work together to keep the company running as it always has been, but it's not an easy start. Both men have formed wrong impressions of each other, which causes a lot of tension and arguments. They soon learn to work together and put their differences aside for the sake of the business, but what they didn't expect was to actually begin to enjoy each other's company and for a comfortable and easy friendship to develop. When Quinn finds out that Porter is gay, he suggests that they have a friends with benefits arrangement to blow off some steam and let loose. But the more time they spend together, the harder it is to keep feelings out of the physical relationship between them.
This book was such a fabulous little read. It was well written and had a really nice flow and pace to it. The characters I just adored with every fibre of my being. I wanted to grab Porter and hug and squeeze him so hard, he was definitely my favourite. It was a perfect enemies to lovers story with a little bit of an age gap to add to it, I don't think it would've been possible for me to love and enjoy it more than I did.
This was my first book from this author, and it definitely won't be my last.
***The ARC was provided by Dreamspinner Press. My review is an honest opinion of the book ***