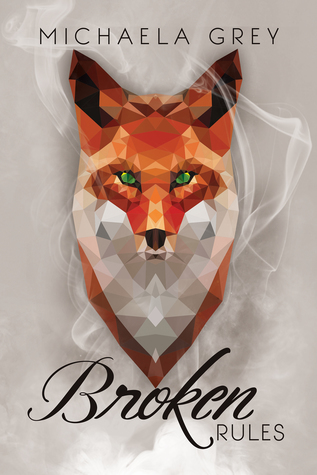 TITLE: Broken Rules
AUTHOR: Michaela Grey
SERIES: Mended Hearts
PUBLISHER: Dreamspinner Press
COVER ARTIST: Kanaxa
GENRE: BDSM; Contemporary Romance
E-BOOK: Yes
PAPERBACK: Yes
LENGTH: 224 pages
RELEASE DATE: July 24, 2018
PRICE: $6.99 – e-book/ $14.99 – paperback
BLURB:
Sanyam Desai is a Dom, a master of his craft. He knows exactly how to make a person beg, and he does it for a living, but he has no idea how to be in love.
Sterling Reynard is in desperate need of manners and someone who cares enough to take him in hand, but he knows he'll never be loved.
When Sterling's world crumbles around him, he turns to the one person who's never asked for anything from him but his trust. But their relationship is built on quicksand, and one careless word will bring the whole thing down.
---
Broken Rules is the second book in the Mended Hearts series by Michaela Grey. As far as I can tell the book is a standalone. I will say that the cover is appropriate once you read the book because the nickname of one of the main characters is Fox, but at first glance at the cover, I thought that this was a paranormal book. But alas the characters are all human.
The story was well written and paced nicely. I thoroughly enjoyed all of the feelings that the author pulled from me. I laughed, I cried—more than once—I yelled at the characters, I wanted to smack some side characters, I swooned from some of the sexy scenes, and I fell in love with the main characters Sanyam and Sterling. I loved their chemistry.
I loved Sterling "Fox" Reynard. He's so very entitled and is the stereotypical rich son that has never had to work a day in his life. He's rude and brash and very much a brat to everybody including his siblings. He hangs out with his other rich friends and gets into trouble. However, his friends have no idea that he's gay or that he's a natural submissive. He acts like a bully and brat longing for somebody to dominate him and Sanyam is just the person to teach him about being a submissive and introduce him to BDSM.
I liked Sanyam Desai. I liked how he's always calm and controlled and that he doesn't react to Sterling's bratty attitude. I also liked that Sanyam is there for Sterling when Sterling's world falls apart. I liked how they worked through Sterling's issues and adjusted his attitude, and I loved seeing how much happier he became and how much nicer he was around his friends and family. Well, I guess I should say his new friends.
But as Sanyam and Sterling continue to build their Dom/sub relationship, outside forces from Sanyam's work and Sterling's family may be more than their fledgling relationship can handle. Will they make it or will they end up back where they were before they met? You'll just have to read it to find out for yourself. I know that I will be reading more books from this author and I can't wait to read the first book in the series Broken Halo.
***The ARC was provided by Dreamspinner Press. My review is an honest opinion of the book ***
Review edited by : Laura McNellis