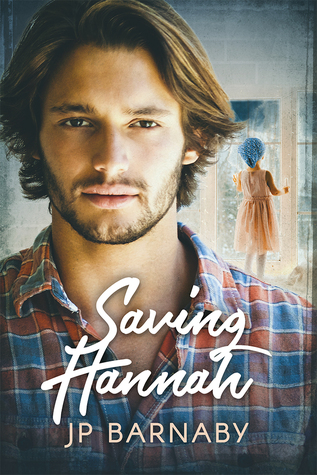 TITLE: Saving Hannah
AUTHOR: J.P. Barnaby
PUBLISHER: Dreamspinner Press
COVER ARTIST: Tiferet Design
GENRE: Mystery/Suspense
E-BOOK: Yes
PAPERBACK: Yes
LENGTH: 200 pages
RELEASE DATE: Dec 18, 2018
PRICE: $6.99 e-book /$14.99 –paperback

BLURB:
Thomas Aberthol's luck has run out. His daughter, Hannah, needs a miracle he can't deliver. A hacker with a felony record, Thomas has little chance of finding work that will provide the care she needs. Out of money, out of options, and out of hope, he throws himself on the mercy of someone he never thought to see again.
Even after ten years, Aleksander Sanna still dreams of that drunken kiss. A perfect moment in time when Thomas wanted him. In his world of elegant code and high finance, the picture he holds of Thomas torments him in the dark of night.
Their worlds collide as Thomas interviews for the job he so desperately needs with the company Aleks inherited from his father. Thomas doesn't get the position, but Aleks offers him a completely different kind of proposal, one suited to Thomas's unique talents…one that will change the course of both their lives.

---
When it comes to a romance novel with kids, I'm a sucker. When I read the blurb of this book, I knew I was in for a good read. Damn, I was right!
Little Hannah is sick, she needs intensive medical care for her to stay alive. Her father Thomas is an ex-felon who can't find a job. He would do anything, anything to save his daughter.
Thomas had a very good reputation as a programmer until he decided that the company who he was working for had a very unstable firewall that could compromise their clients. So he proves it by hacking in their own system. His arrogance backfires, and he's convicted and sent to prison. Now back, not only can't he find a job, his daughter's life is in danger as well. He's desperately going from one interview to another with no hope whatsoever. Until one day he was called back for a second interview. His hope is back, and he's so confident that his luck is turning around, and maybe he can save not only Hannah but the house he's living in. That confident smile froze on his face upon meeting the owner of the company, Aleksander Sanna, his ex-roommate from college from whom he ran away after one drunk night.
Aleksander Sanna sees the opportunity to establish his role as the next CEO in his late father's company. He knows that his father's death wasn't an accident. Upon seeing Tom's name, whom he never forgot, who has hunted his dreams, he knows this is his last chance to secure Tom in his life. He knows everything about Tom; his time in jail, his daughter's medical condition, and even the threat of losing the house him, his daughter and mother lives in. But when Tom accepts his offer to marry him, out of despair, Aleks realizes that maybe the way he approached Tom wasn't the right one, he fears that Tom will do "anything", even against Tom's own desire, to save his daughter.
I loved every word of this book. Its angsty, its hot…
This book touches a borderline of gay-for-you and no-con situation (I mean the offer). I recommend it wholeheartedly!
***The ARC was provided by Dreamspinner Press. My review is an honest opinion of the book ***
Review edited by : Laura McNellis